Just wanted to make a post and tell you all what's been going on with me lately. Well for one a lot of drama, but I won't bog the rest of humanity down with my issues. They're getting better anyway.

Also, my personal journal account on here has now been deleted. This will go back to being my only account as two accounts is just too much to deal with. I have several other blogging/posting/arting/writing/etc accounts if you wish to hit me up elsewhere on the interwebs. This journal here will also be, you guessed it: Friends Only. Simply for the fact that now not only will I be posting my stories on here, but personal things from my life and I really don't wish for everyone to be nosing around in that. There are creepy people on the internet!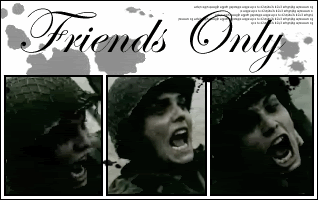 Comment to be added please and thanks! More posts later when I have the time.